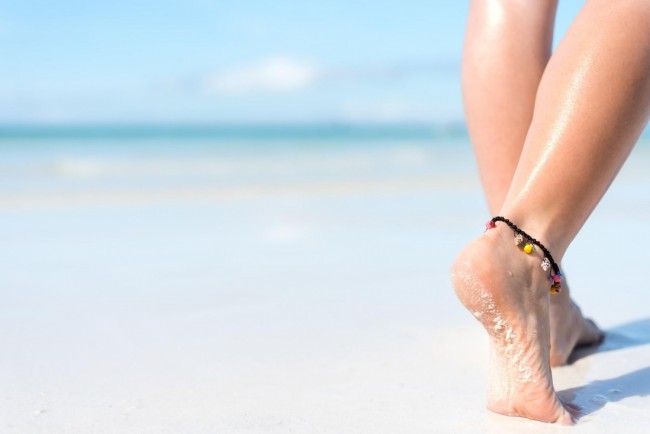 (Photo : Ankle bracelets)
Are you looking to give your ankles some style? If so, check out this guide to learn how to rock an ankle bracelet.
Ankle bracelets, or anklets, are a super-versatile and often-overlooked accessory. Many people think of anklets as a fad of the 90s or relegated to teen fashion.
This is so not the case! The right anklet is just the thing to bring any spring or summer outfit to the next level.
There are so many styles of anklet out there, so whether your style is more classic or outgoing, there's sure to be an anklet to compliment your look. Read on for some tips about different types of anklets and how to put together the perfect outfit to show them off. 
Types of Ankle Bracelet
Here are the different types of ankle bracelets you can try.
Chain Anklet
You simply can't go wrong with a delicate chain anklet in your favorite shade of gold or silver. Generally speaking, silver looks great on people with cool skin tones and gold complements warm skin tones, but there are no hard rules. Just choose a metal you love!
This classic style of anklet goes great with a wide variety of outfits. Whether you're running errands or walking down a red carpet, a chain anklet is a subtle, stylish touch. 
Outfit Idea: Sophisticated 
A simple, fine chain of gold or silver exudes class and sophistication. If you want to add that extra bit of detail or sparkle, you can look for an anklet with one small charm or subtle diamond accents. 
Pair your anklet with a stylish but simple dress that shows a bit of leg, or a long skirt with a side slit. Make sure to coordinate the rest of your jewelry by matching metal tones and chain thickness. And don't forget a pair of great shoes. 
Charm Anklet
Charm anklets can range from one simple charm to charms the whole way around. One simple or small charm is more understated, while more charms or larger charms give a fun vibe. Charm anklets allow you to express yourself by choosing charms that mean something to you. 
Outfit Idea: Breezy and Beautiful
A charm anklet would go great with a breezy sundress and cute sandals. It's a perfect look for brunch with friends or an afternoon date. 
Beaded
Beaded anklets can also run the gamut from fun to chic. They generally give off boho vibe, but it depends on the type and size of the beads. Monochromatic beads keep it low-key while multicolored and large or irregular-shaped beads make a bigger statement.  
Outfit Idea: Casual Cool
Beaded anklets are another versatile choice that can go with a lot of casual looks. You can pair them with sandals, sneakers, or even more dressy summer shoes. Just try to keep the size and color of the beads in line with the rest of your outfit to keep everything looking pulled together. 
Chime/Bell Anklet
Anklets with little chimes or bells announce your entrance with a lovely musical sound. They are perfect for a summer party or festival look or even a day at the beach. They absolutely sing "free spirit".
Just make sure you wear this type of anklet in the appropriate setting. You might not want to be jingling with every step at work or a more formal party.  
Outfit Idea: Free Spirit
Anklets with chimes or bells would look great peeking out from a gauzy skirt. They would also add a touch of whimsy to your swimsuit during a day lounging at the pool or the beach. 
Woven Anklets
Woven anklets go way beyond summer camp chic. They add great texture to an outfit. 
These anklets come in a variety of thicknesses and levels of detail. They go well with casual outfits on days when you're just hanging out. 
Outfit Idea: Summer Fun
Woven anklets look great with cropped jeans or denim shorts for a laid-back look. The best shoes to wear with them are casual as well, like sneakers or flip flops. 
Leather Anklets
Leather anklets are a great way to add a little edge to your look. Brown leather anklets with simple metal accents or a single metal charm or stone are great for a boho and earthy vibe. Opt for black leather and metal hardware for more of an edgy, rocker look.
Outfit Idea: Boho Vibes
Rock a leather anklet with strappy sandals and cropped denim for a look that shouts carefree cool. Try balancing it out with a flowy, feminine top to keep it pretty and romantic.  
General Anklet Style Tips
Ultimately, fashion is all about self-expression, so there are no hard and fast rules. But when it comes to wearing an anklet, there are a few considerations to make your outfit look totally pulled together. 
A Nice Pedicure
Wearing an anklet brings a lot of attention to your feet, so you'll want them looking their best. Make sure your skin and nails are healthy and groomed and your nail polish is freshened up. 
Don't Mix With Pantyhose
Generally speaking, anklets and pantyhose do not mix. You especially don't want to wear your anklet under your pantyhose. That could damage both the anklet and the hose, and your anklet won't be able to shine. 
Choose the Right Shoe
Different styles of anklets pair well with different shoes, so don't be afraid to try all kinds of combinations. However, you probably don't want to wear a shoe that has an ankle strap. That will just clash with the anklet and prevent it from getting the attention it deserves. 
Get the Correct Fit
If your anklet is too tight, it could be uncomfortable against your skin. If it's too loose, it might fall off or get caught on something. Before you buy, make sure to measure what size you need.
Decide where you want your anklet to hang (tight above your ankle bone or hanging down at the top of your foot) and measure accordingly. If you're still not sure, look for adjustable anklets with chain extenders or sliding knots.
Finding Your Perfect Anklet
The right anklet is an attention-grabbing accessory that'll help you put your best fashion foot forward. For a great selection of ankle bracelets to choose from, check out the collection on our website.